A project years in the making, 820 South Michigan became the crown jewel in the Johnson Publishing empire following its official opening during the early 1970s. The building was an impressive upgrade from the company's previous headquarters one mile further South at 1820 South Michigan Avenue, and was held up as evidence of Johnson's entrance into the upper echelons of American publishing.
Johnson had begun to plan for a potential move away from 1820 South Michigan at the end of the 1950s. In his memoirs, the publisher contended that he was happy with the site, which had significantly expanded over the decade following its purchase in 1949. However, Johnson received a letter from the mayor's office advising him of a new expressway which would cut through Eighteenth Street, and offering to pay relocation costs and market rate for the company's offices. Johnson had long harboured an ambition to develop a corporate headquarters from the ground up - creating a building in his own image, that would symbolise his own vision of black modernity. Johnson tasked his partner Eunice with finding a new site for the company, and she uncovered a vacant lot ten blocks north at 820 South Michigan Avenue. The site was a prime location - close to the Loop, with fantastic views across Grant Park and Lake Michigan. Unfortunately, encountered familiar difficulties.
To our surprise and disgust, we ran into the same problems we had run into in the old location. As soon as the agents discovered that I was Black, they started backtracking. Ten years had passed, from 1949 to 1959, and yet nothing really had changed. The real estate industry hadn't changed, and, as it turned out, John Johnson hadn't changed. I went to the same White lawyer who bought 1820 South Michigan in trust, and he bought 820 South Michigan in trust, paying $250,000 in cash
With the lot secured, Johnson began to develop plans for his new building. However, without warning, the expressway which had threatened 1820 South Michigan was rerouted through Twenty-Fourth Street. It would eventually be realised as Interstate 55, otherwise known as the Stevenson Expressway in the Chicago metropolitan area​, opening in October 1964. The decision to reroute the expressway put both sites in jeopardy, as Johnson had intended to finance the construction of his new headquarters with the sale of the old site.

For nearly ten years, Johnson looked to generate capital for the project by using proposed leases for the new building to secure interim financing. As a result, his original plans for the building were a 30-story mixed-purpose structure, in order to secure enough potential lease capital to cover the cost of construction. He even entered into joint venture discussions with Jewish business interests about a potential collaboration - a black publishing house and Jewish school. After years of frustration, Johnson decided to go it alone. He generated seed money for the building's construction by closing regional offices in Paris and Los Angeles, as well as making other cutbacks on an administrative and editorial level. Faced by continued opposition from lenders, Johnson decided to break ground on the site and gamble on being able to arrange a mortgage before his money ran out. Construction began in February 1970, and by the end of the year Johnson's finances were perilously low. At the last minute, the publisher was able to secure a mortgage commitment with the Metropolitan Insurance Company, leading to financing from the First National Bank and long-awaited financial stability for the project.

Costing between 7 and 8 million dollars to build, 820 South Michigan was designed by John W. Moutoussamy, a well respected figure who had earned his degree from Illinois Institute of Technology in 1948. By his death in 1995, Moutoussamy had established a reputation as one of the nation's most influential black architects, and had left his imprint on a number of Chicago landmarks, including a new centre for the Chicago Urban League, the Richard J. Daley College, and the Theodore K. Lawless Housing Development. In social circles, Moutoussamy also gained public recognition as father-in-law to African American tennis superstar Arthur Ashe.

The building's striking design - with its bold yet functional exterior, open floor plans, and large glass facades are all hallmarks of the international style. In addition, Moutoussamy can be seen to have taken inspiration from the postwar emergence of Brutalism. Most commonly associated with governmental or institutional building's, brutalist architecture has often been seen as a reaction to the 'frivolity' of urban designers and architects during the 1930s and 1940s, or as a retreat from the more ornate architectural style of early century Art Deco or Expressionism. Its severe and functional aesthetic has also been interpreted as an attempt to project 'moral seriousness', and it is perhaps unsurprising that the style came to dominate many American University campuses during the 1960s and 1970s. From a similar perspective, Johnson envisioned the building's design as a reflection of Johnson Publishing's gravitas - "a magnificent structure which reflects the strength and vitality of the company...conveyed by the graceful horizontals, the walnut travertine marble and the continuous sweep of glass."
Former
Ebony
digital editor
Eric Easter has suggested that the building was an important part of rehabilitating the negative media image of Chicago's black population which had been cultivated during the devastating race riots of 1968. Reflecting on the building's significance following its sale to Columbia College Chicago, Easter contended that 820 South Michigan was "its own loud protest - a visual pronouncement that black America had arrived in all its striving, outrageous, hip and fashionable glory." At the building's formal unveiling in April 1972, Johnson was no less dramatic.
This new building reflects our faith in the strength and vitality of that long line of black men and women who have contributed so much to this country and this community...it is a poem in glass and marble which symbolizes our unshakeable faith that the struggles of our forefathers were not in vain and that we shall indeed overcome



Chicago Mayor Richard Daley, Reverend Kenneth Smith and Ebony Senior Editor Lerone Bennett, Jr. were also among the figures to participate in the building's opening ceremony, with each offering some words of support or celebration. Both Daley and Bennett linked the construction of the new site to the founding of Chicago by Jean Baptiste Pointe Du Sable, noting that the building was the 'first black-owned building to be constructed on the South Loop in nearly 200 years.' Johnson also linked the building's construction to the expansion of Chicago's own black population - a site which could function as "a vehicle for building and projecting the image of Black people in America - an image that has been distorted by media oriented primarily to non-Blacks."
As a civic centre, a political hub, a cultural space and an economic powerhouse, 820 South Michigan was to become the new nexus for black community activism and collaboration within Chicago's central zone. This sentiment was most obviously expressed through the celebration of the building's permanent collection of Black American and African artwork and installations, reported to be the largest corporate collection of such work in America. For months after the building's opening, full-time tour guides were employed to conduct tours of the building for visitors, and a pamphlet was produced offering more information about individual artworks scattered across the building's 11 floors. Poet Gwendolyn Brooks was even commissioned to write a special piece for the occasion, titled "An Arrival"
A tribute to Ourselves. And to the will
the precise will
the full will
that manages Arrivals through the fire;
that manages revisions of the wave.
Beyond the genuine crucifixions, and the sleep
the steep flint, the high howl of the hurricane,
the wide ice, across our self-recovery and re-dress
we look to one another. And we love.
200 South Michigan Avenue
▶
Powered by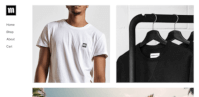 Create your own unique website with customizable templates.