5619 south state street
Although his use of an office in the Supreme Life Building had proved convenient during the formation of Negro Digest, Johnson soon desired a space of his own. In the autumn of 1943 Johnson vacated the offices in the Supreme Life Building to 5619 South State Street. This small, store-front office was purchased for $4,000, and became the public face of Johnson's growing publishing enterprise. While the centre of the South Side's black business district had resided close to the intersection of 35 Street and South Parkway during the 1920s, the Johnson Publishing offices at 5619 South State reflected the broader migration of Chicago's black community southwards during the 1930s and 1940s.

However, editor Ben Burns suggested that while the magazine's physical address may have changed, its editorial headquarters remained for all intents and purposes his home address at 3725 South Lake Park Avenue. If true, this statement was indicative of the complex position Burns held within
Negro Digest,
and subsequently
Ebony
following its publication in 1945. Just as the dominant role of a white editor at a digest for a black audience became increasingly problematic, so too was this tension represented in the contrast between
Negro Digest's
official home on South State Street, and Burns' personal residence:
"I had decided to move closer to the black community, even though Lake Park Avenue then was lily-white, blanekted by a restrictive covenant that mandated Cottage Grove Avenue, just two blocks away, as the arbitrary frontier between black and white neighborhoods."
5619 South State Street soon became to cramped for the rapidly expanding company, and Johnson would purchase offices at 5125 South Calumet Avenue, before making the highly publicised move to 1820 South Michigan Avenue at the end of the 1940s. The building had survived but remains vacant - one of the few remaining buildings on the State Street side of the block between East 56th Street and East 57th Street.
Powered by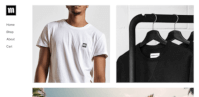 Create your own unique website with customizable templates.