While the majority of media and scholarly attention has focused on the South Side and the so-called 'Black Metropolis', it is important to recognise the historical significance of black communities on the city's West Side. As black migrants flooded into Chicago as part of the Great Migration, they made their way Westwards as well as Southwards, settling in areas such as Lawndale and Garfield Park to the West of downtown and the Loop.
The West Side's black population continued to increased during the decades following World War II. In response, white residents sought to close off neighborhoods through local planning committees and support for redlining practises. When this failed, many white families fled to the suburbs. During the 1960s frustrations at continuing discrimination fed into a series of riots - most notably in the aftermath of Dr. Martin Luther King, Jr.'s assassination in 1968 - which led to significant property damage. During the years following the riots many middle-class African Americans followed white families to the suburbs, contributing to a shrinking tax base and growing poverty and crime levels.

However, new black-led organizations and institutions also emerged to promote community pride and to advocate for Chicago's West Side black communities, who were often underserved by black cultural and political landmarks on the South Side corridor which stretched from Bronzeville to Hyde Park. Given the size of Chicago's black population, it is unsurprising that regional black periodicals have appeared within the city. If the Chicago Defender can be seen as the black city paper, then the Windy City Word, located at 5090 West Harrison Street, reflected the regional diversity of Chicago's black communities. As a weekly community paper, the Word documented "life on the Greater West Side as seen by the people who live and work there."

Information about the newspaper is hard to come by; its website no longer functions, and use of social media outlets such as Facebook appears to have been dormant for several years. However, if the paper's digital presence appears to be evaporating, then Google Street View has retained evidence of its physical presence at 5090 West Harrison Street, opposite the Michele Clark public high school.

The school was opened in 1972 as Austin Middle School, but was renamed in 1973 in honor of African American television journalist Michele Clark, who was one of the first black women to work as a news reporter for a major corporation. Shortly after the school had opened, Clark was killed in a United Airlines crash at Midway airport.
Powered by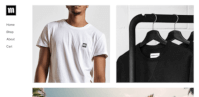 Create your own unique website with customizable templates.