3501 south parkway
The Supreme Liberty Life Insurance (otherwise known as Supreme Life) was founded by Frank Gillespie in 1919, becoming the first northern black-owned and operated insurance company. Two years later, the Company moved into a two-story commercial building on the corner of 35th Street and South Parkway, which had been built by Roosevelt State Bank. Supreme Life would initially occupy the second floor, but in 1924 the Company was able to buy out the entire building, and five years later merged with two other black insurance firms to create the Supreme Life Insurance Company of America.
​Like nearby sites such as the Overton Hygienic Building and the
Chicago Bee
Building one block over on South State Street, or Unity Hall one block north at 3140 South Indiana Avenue, the Supreme Life building became an important part of the vibrant black cultural and economic nexus of the Black Metropolis which developed around 35th and State during the first three decades of the twentieth century. By the time John H. Johnson began working for Supreme Life during the late 1930s, the area had fallen into decline as black business interests moved further South. However, Supreme Life remained a major economic powerhouse within the South Side's black business community.
Clerical Department of Supreme Life Building, circa 1950. Image courtesy of Illinois Digital Archives
The environment provided by Supreme Life, and the resources available through the Supreme Life Building, played a vital role in the development of Johnson's publishing enterprise. Johnson argued that Supreme's success helped to catalyse the development of a prosperous black middle class which would create the basis for Johnson's own readership. He contended that Supreme, like any black business of the era, was more than just a business;
"it was a statement, a petition, a demonstration, and an argument."
It was at Supreme that Johnson developed his appetite for business, which he acquired firsthand from mentor Harry Pace -
"coming to work and watching Pace and his associates play with millions gave me a physical, almost a sexual, thrill."
In addition to helping Johnson build his business acumen, Pace also helped to cultivate his experience as a journalist by making his assistant editor of
The Guardian
, Supreme's monthly company newspaper. In 1939 Johnson was promoted to editor of the newspaper, and he used this position to develop networks and expertise. Johnson's experience gathering news stories and information for
The Guardian
laid the foundations for the development of his first magazine
Negro Digest
.
​In order to generate interest in his new publication, Johnson used the Supreme Life Speedaumat - an addressing machine which kept the contact details of twenty thousand Supreme Life clients who paid their insurance premiums by subscription - to ask for prepaid subscriptions to his magazine. Johnson also persuaded Earl Dickerson to allow him access to a law library in a private section on the second floor of the Supreme Life building, which Johnson used as his first office and mailing address
Earl Dickerson in his office at the Supreme Life Building, circa 1961. ​Image courtesy of Jet ​magazine
In his autobiography, Johnson described the division of his labour between the offices of Supreme Life, and his true passion as the fledgling editor of ​Negro Digest.
"From June to November, I worked downstairs in the Insurance Company in the dapy and climbed the stairs at night to work on the magazine. One day in the Summer of 1942 a man came and painted letters on the frosty glass door - the Negro Digest Publishing Company - and every letter was music to my soul."
During the months leading up to the magazine's initial release, Johnson was aided in this small office by his wife Eunice Johnson, artists and cartoonist Jay Jackson, and a white freelancer named Ben Burns, Around a year after Negro Digest​'s original publication, Johnson was able to realise a second ambition - a move to his very own offices at 5619 South State Street.
Powered by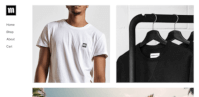 Create your own unique website with customizable templates.