3435 SOUTH INDIANA AVENUE
By the end of World War I, the Defender's circulation was rapidly approaching a quarter of a million weekly readers, and the newspaper had established itself as one of the country's most popular black periodicals. Emboldened by his success, Abbott moved his enterprise into its first permanent home at 3435 South Indiana Avenue. He had been looking for some time to expand the Defender's base of operations to solidify its self-appointed role as "the world's greatest weekly."

By moving further South, Abbott was able to locate the newspaper within the heart of the South Side's black business and entertainment district that flourished around 35th Street and State Street during the 1920s. The map below, taken from Davarian Baldwin's 2007 study Chicago's New Negroes, illustrates the centrality of 3435 South Indiana within the South Side's broader black business and cultural economy
The building was built in 1899 and had been designed by prolific architect Henry Newhouse, who was responsible for the development of over 700 buildings in Chicago during the late nineteenth and early twentieth century. Perhaps Newhouse's most famous building is the historic
Sutherland Hotel
in the Kenwood neighborhood of Chicago, which was completed in 1919 but immediately commandeered as a general hospital by the U.S army. The building was finally opened as a hotel in 1925. However, its residential rooms remained segregated until after World War II. Following the 1948 Supreme Court ruling in
Shelley vs. Kraemer,
the Sutherland integrated in 1952, and was transformed into 'the Southside's most progressive hotel', and a vibrant spot on the Chicagoan jazz scene.
Prior to housing the Defender, 3435 South Indiana had functioned as a synagogue, and the building retained Hebrew markings and lettering in its sandstone facade after the
Defender
's staff had moved in. The building had been owned by the South Side Hebrew Congregation, which had been formed in 1888 and had constructed its temple at 3435 South Indiana 11 years later.
For lapsed Jewish editor Ben Burns, who worked at the
Defender
during the 1940s and 1950s, the building's former function carried no small hint of irony. As a white editor in black journalism, Burns found himself
"entering the Negro world by walking into a onetime Jewish temple. To become a Negro editor, I - a Jew who had never attended shul -would now spend most of my waking hours in a former synagogue."
The building's congregation had left in 1915, for a new site on the intersection of South Michigan Avenue and East 59th Street, and it had been partially altered for warehouse use in the years prior to 1920.
Irrespective of the building's previous functions, Abbott soon set about remaking 3435 South Indiana into a physical embodiment of his newspaper's bombastic editorialising. The building's understated exterior was radically transformed with bold new signs and garish banners. The
Defender'
​s motto - "the World's Greatest Newspaper" - was emblazoned on the side of the building and visible for several blocks North.
3435 South Indiana would remain the Defender's home until 1960, when the newspaper relocated to a larger site at 2400 Michigan Avenue, the former home of the Illinois Automobile Club. In the decades following the Defender's departure 3435 South Indiana was used by a number of companies, and was left vacant for increasingly longer periods as business opportunity dried up around the 35th Street and State district.

​However, the building was able to survive demolition efforts, alongside other notable sites such as the Pilgrim Baptist Church at 3301 South Indiana, which is recognised as a key site in the development of Gospel music. The building has recently been refurbished and converted into mixed-use living and retail space.

Powered by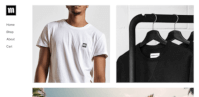 Create your own unique website with customizable templates.