3159 south state street
The
Chicago Defender
was founded in 1905 by Robert Sengstacke Abbott, an African American lawyer and entrepreneur. Abbott was born in 1870 in Georgia, and would go on to study printing at the Hampton Institute in Virginia between 1892 and 1896. Following his graduation he moved North to attend the Kent College of Law in Chicago, and received a law degree from that institution in 1898.
Upon graduating, Abbott spent a number of years attempting to establish himself in the legal profession, working in Gary, Indiana, and then Topeka, Kansas, before returning to Georgia. However, opportunities for Abbott to develop his career as a lawyer remained fleeting. Frustrated, Abbott returned to the Windy City, where he switched his attentions to the field of publishing. In 1905, his publishing career began with the first issue of the
Chicago Defender:
a four-page, six-column folded sheet which Abbott had cobbled together at a card table set up in the room he rented from Henrietta Lee at 3159 South State Street.
As Myiti Sengstacke Rice notes, during the newspaper's early years Abbott was a jack-of-all-trades, working as its 'reporter, editor and newsboy, selling his paper door-to-door in barbershops, pool halls, churches and clubs.'

For a while Abbott attempted to maintain a professional front by renting a small office, but financial limitations meant that he quickly moved the headquarters of his publishing enterprise into his rented accommodation at 3159 South State Street. Aided by the patronage of his landlady Henrietta Lee, Abbott's newspaper would eventually expand to encompass the entire apartment.



By the end of World War I, it had become clear that while 3159 South State Street would always hold strong nostalgic appeal for Abbott and his editors, the space was increasingly unsuited to the rigours of producing a nationally circulated black periodical. In the early 1920s the Defender moved its base of operations to a larger building three blocks South at 3435 South Indiana.

3159 State Street would be demolished as part of the Illinois Institute of Technology's expansion project during the 1940s. Today on the ground where the former home of the
Defender
stood is the McCormick Tribune Campus Center, featuring its iconic 'L' train station.
Powered by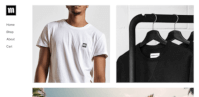 Create your own unique website with customizable templates.