1974 became a banner year for Essence in a number of ways. Following a difficult formative period which was characterized by financial and editorial problems, the magazine became fully capitalized in 1974. This was a move which helped to significantly raise its circulation and ad rate base, and to attract new subscribers. There were a number of reasons for the change, but perhaps the most significant was the influence of Marcia Gillespie, the magazine's dynamic editor-in-chief. 1974 also marked the departure of Cecil Hollingsworth, who alongside Edward Lewis had been arguably the most influential of the magazine's four male founders.

This major breakthroughs on an editorial and corporate level were reflected in a relocation from the brownstone townhouse on 30th Street which had been the magazine's home during its formative years to a new base at 300 East 42nd Street. The new building was a 17 story high rise in the Tudor City neighborhood of Manhattan. The building had been designed by William Lescaze & Associates and was completed in 1963. Lescaze was a Swiss-American architect who would come to be known as a pioneer of American architectural modernism. Perhaps his most significant accomplishment was the design of the Philadelphia Savings Fund Society Building alongside George Howe, which is recognised as the first International modernist skyscraper.

For Lewis, the move to 300 East 42nd Street was an important part of Essence's transition from control by the Hollingsworth Group to Essence Communications Inc. It also played an important role in legitimating this new enterprise. In contrast to the somewhat domestic interiors of 102 East 30th Street, the new building was an altogether more professional mixed-use building. Ultimatelly though, 300 East 42nd Street would only serve as the magazine's base for a short time before it moved to a permanent address at 1500 Broadway.
Powered by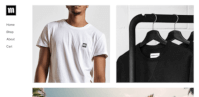 Create your own unique website with customizable templates.