The Amsterdam News' move to Seventh Avenue in 1916 marked a departure from the West Side and the neighborhood which had given the periodical its name, and a more central location within Harlem, which was rapidly emerging as the heart of New York's - and by extension the country's - black social, political and cultural activism.

2293 Seventh Avenue is the centre unit in a row of five, four storey row houses, constructed in a highly stylised Greek Revival style. 2293 and the two row houses to the North have a brownstone exterior finish, while the two row houses closest to 134th Street have a more conventional brick finish. These two buildings are also smaller, with only two front facing windows compared to three for 2293 and the two houses North. The front elevation of 2293 bears a stone masonry exterior with raised brownstone trim, and is topped with a galvanised iron cornice supported by four modillions.

This block of row houses is flanked on either end by brick tenement buildings, which are one storey higher than the row houses they bookended. When taken together, the row houses and the tenement buildings occupy the entire east side of Seventh Avenue between 134th and 135th Streets.
Front facade of 2293 Seventh Avenue. Image courtesy of Library of Congress
Each of the upper floors of 2293 have double hung windows. All six of the building's double hung windows have brownstone decorated lintels with raised trim. The images below show the Amsterdam News' offices on the first floor of the building, demonstrating its narrowness and length. The first image is taken facing towards Seventh Avenue, and the second image is taken from the windows pointing backwards towards the entry point into the room.
Front offices. Image courtesy of Library of Congress
In 1938 the Amsterdam News relocated to another property, and the premises were leased to another company. In 1975, as part of the Afro-American Bicentennial Corporation's efforts to recognise important black historical landmarks, the building was put up for consideration as a landmark to the National Parks Service.
Powered by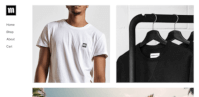 Create your own unique website with customizable templates.