◀ 5125 South Calumet Avenue
During the early years of
Negro Digest
and
Ebony,
Johnson's offices had moved from the Supreme Life building to a number of smalls shop-front locations on the South Side. However, with the continued expansion of his publishing enterprise, Johnson sought a move to a more prestigious location. This decision was also influenced by difficulties in renegotiating his corporate lease at 5125 South Calumet. After making a number of improvements to the building, Johnson believed he was entitled to a lower lease rate - a sentiment which wasn't shared by the owners.
Perhaps more significantly, Johnson saw a move away from the South Side and towards the Loop as an important way of legitimating his fledgling publishing enterprise. By the end of the 1940s
Negro Digest
and
Ebony
had established themselves as the largest black publications in the country. Yet their impact continued to be neglected by the mainstream press. Johnson saw South State Street as a 'back street', and declared his desire to 'work on a front street. I wanted to go first class.'
Unfortunately, Johnson's ambitions clashed with the continuing restrictions imposed on black residential and professional building leases and ownership within Chicago. As the city's black population had rapidly expanded during the years following World War I, organisations such as the FHA and the Home Owners Loan Corporation had moved to redline large sections of low-income and minority neighborhoods within Chicago. Johnson searched all over the South Loop for a suitable two or three story building to house his magazines, and eventually settled on a location at 1820 South Michigan Avenue. The building had previously homed the Hursen Funeral Home, but had come up for sale with an asking price of $52,000
I asked if I could come by and see it. He said, "Of course, what's the name of your company?" I said, "Negro Digest Publishing Company." Silence. A long silence. Then Hursen said he had a previous commitment and couldn't show the building to me then or later. There was a problem, in fact, and the building was no longer for sale.
Johnson realised it was useless to try and negotiate with Hursen directly. Instead, he decided to use a white lawyer named Louis Wilson as an intermediate. Presenting himself as a representative for a publishing house in the East, Wilson contacted Hursen to discuss the potential sale of 1820 South Michigan. Posing as a janitor for fictional eastern buyers, Johnson toured the building with Hursen, and subsequently bought the building in trust so the purchaser would remain unknown.

Following its purchase, Johnson spent around $200,000 renovating the property. Upon the completion of work by interior designer Viola Marshall, the publisher declared that the site had been transformed into "one of the most elegant office buildings in Black America."
Ebony
celebrated the opening of the new site in an expansive October 1949 editorial which provided readers with a detailed tour.
​Johnson was particularly proud of the neon-lighted
Ebony
sign on the building's roof which served to project the magazine's name across the Chicago skyline for more than a mile in either direction. Similarly, the magazine
was quick to play up the building's role as a public showpiece, where esteemed members of the black community could congregate or visit with editors and publisher.

Johnson's executive offices were celebrated as a space befitting one of the nation's most influential black publishers. Resplendent with heavy oak furniture and antique satin drapes, Johnson's offices attempted to project an image of stability and sophistication.
Ebony
spared little detail in describing Johnson's offices to readers, including his 'leather-covered furniture' and paintings 'brought back from Haiti after a recent visit at invitation of government.'
The new building also featured a corporate library which the company declared to be 'one of the best reference files on the subject of the Negro' anywhere in the country. Librarian Doris Smith, who would go on to front the Company's Book Division following its formation in the early 1960s, oversaw an expansive collection of reference books and periodicals, as well as a large clippings collection. Over time, 1820 South Michigan would come to include public exhibits on African American history, most notably the Johnson Publishing 'Hall Of Fame' - an historical gallery which featured notable figures voted into the Hall of Fame by readers in a yearly poll.
Over the years following its initial purchase, Johnson bought up many of the surrounding buildings and lots to cater for his company's continued expansion. Eventually, the company would upgrade more substantially, to a custom built headquarters one mile further north
Powered by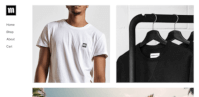 Create your own unique website with customizable templates.