The New York Amsterdam News was founded in 1909 by James H. Anderson, a local black businessman who lived in East Harlem. In many ways its origins story echoes that of Robert Abbott's Defender, which had begun publication in Chicago four years earlier. Just as Abbott had started his newspaper out of his landlady's house on the South Side of Chicago, so too was the Amsterdam News ​first published out of Anderson's home address at 132 West 65th Street.

The paper took its name from its proximity to Amsterdam Avenue, a stretch of Tenth Avenue which ran north-south from around 193rd Street to 59th Street and served as a main thoroughfare for Manhattan's commercial traffic. However, within a year of its publication its growing popularity prompted Anderson to move its base of operations out of his own home and into a dedicated production space at 17 West 135th Street.

Powered by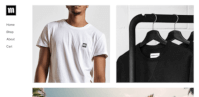 Create your own unique website with customizable templates.